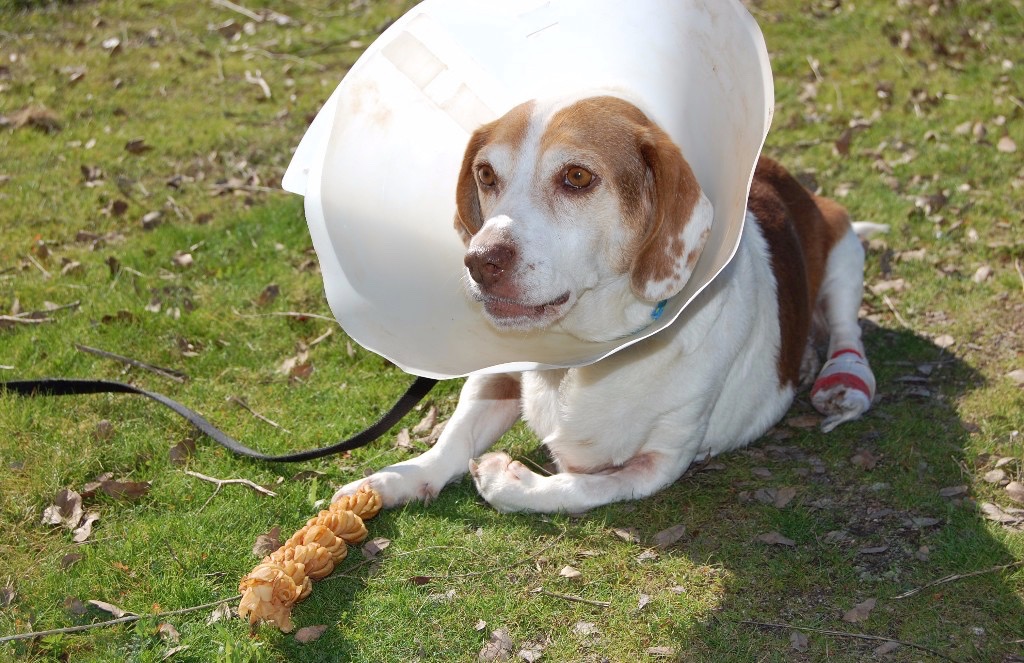 Buddy ran around a housing project for about a year. Well, "ran" isn't quite right. He was lame—one front foot so damaged from what was likely a car accident, he could only hold it up, bent and useless. Eventually Stockton animal control picked him up, and soon the staff was in love with this little trooper of a Beagle, but no one who visited chose to adopt Buddy. With Buddy's days numbered, they called Meade Canine Rescue  and asked for help.
Charlotte drove north to meet him.  Much to her surprise, Buddy had not one bad leg, but two and couldn't walk at all. The volunteer claimed he'd been hit a second time and needed surgery, though that had not been disclosed. Nonetheless Charlotte took the  earnest hound with the gorgeous eyes,  El Camino Veterinary stepped up  and Buddy had surgery. While the back leg could be fixed, it was clear the front leg was permanently damaged. Buddy picked up the name "Buddy Conehead" when volunteer Alisha saw him post-surgery. Many weeks of changing bandages and a lot of TLC,  Buddy was well enough to get around on his good three legs.  That was February 2013.
Buddy's health problems continued, and in September 2014 he had an abscess that required another surgery. Again, he came through it like a champ. He was at Meade for over 3 years, trundling along on three legs, eager to join pack activities and obsessively chasing lizards.  In the past months, relegated to short walks, he'd still try to go on long walks with volunteers and canine friends returning in the wagon or wheelbarrow probably his plan all along.  He adored car rides (all that easy mobility!), tolerated brushing and fussing, never much liked sharing his food. He was loved by all who recognized his indomitable spirit.
Post Script:  Just after Teresa finished writing these stories, Buddy peacefully passed away in his bed at his forever home, Meade Canine Rescue.
Buddy is one of many inspiring stories of overcoming adversity at Meade Canine Rescue. Your support makes stories like this possible and the adversity easier to conquer.  Buddy is chasing lizards in heaven at this very minute.