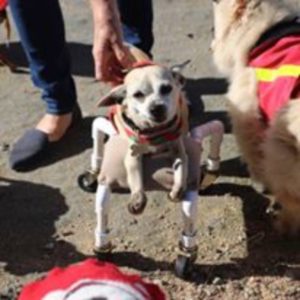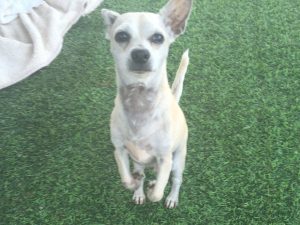 Happy Trails To Roo our REAL special needs kid
In June 2015, Charlotte got a call from the rescue network working to save animals, that is nothing unusual but this was for a dog from Texas. Julie Anderson at Field Haven spay/neuter clinic was asking her to take a special needs Chihuahua mix named Roo. Charlotte resisted at first—California has enough stray dogs without importing them a Texas dog pound! But little Roo was endearing in his photos showing his front legs permanently bent from a birth defect.
MCR agreed to take him.  Julie found a truck driver Roo could hitch a ride with, and before you could say "bugaboo" the little guy was on his way. Without warning the truck driver left Roo in a tiny crate at the rescue and when Charlotte discovered him and approached the crate  she heard  excited  "thumpthumpthumpthumpthump" of little Roo's tail, His indomitable spirit was obvious from the start.
Roo enthusiastically hobbled around, using his hind legs and supporting his front on his elbows,nothing slowed him down. Seeing how much he wanted to explore and be with the other dogs, two devoted volunteers, Deb McNulty and Bill Massey, unbeknownst to each other,  started designing and building carts  Roo could use for mobility.  With PVC piping, hockey skate wheels, a little wood, fabric, and their love  Roo soon had two carts he could rest his front legs and chest on while using his ever-mobile back legs to race around. And race he did—always willing to follow friends, doing wheelies and figure 8s to the amusement of all.
This past summer, Roo was one of the Meade dogs at the "Canines at Cass" event. Supporter and dog lover, Patty, who was looking for an older big dog  happened to be there as well.  Roo is neither old or big, but Patty couldn't get him out of her mind—his spirit had charmed her. Eventually she called MCR – she wanted to adopt little Roo.
We are happy to report, Roo now lives the good life seaside  where he rides around in a stroller, enjoys sunsets on the patio, travels to appointments or takes it easy, making sure his new Mom stays near.  As Patty says, "Roo is everything she didn't want and yet he's perfect".
This is the magic you support when you support Meade Canine Rescue. Because of you, we can all say "Happy trails to you, Roo!"