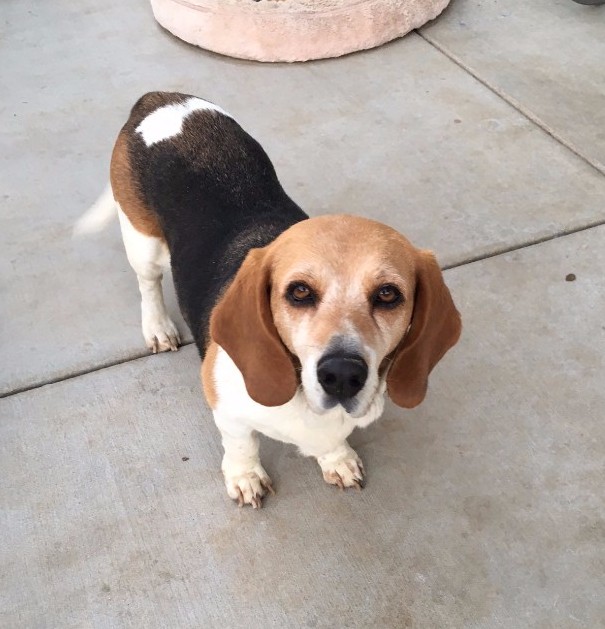 Sadie's Story
Sadie's "family" turned their back on her. They said she was thirteen, "sort of" house trained, (though she lived  outside).  They left her at the shelter, lonely and confused and without much chance of adoption.  Meade Canine Rescue saw her differently, she was a sweet Beagle/Basset mix with big brown eyes,  an old girl who deserved a home filled with love and attention in her golden years.
June 20th, Charlotte picked  Sadie up from the local shelter and put her in her car; the stench was overwhelming. Sadie's teeth were so bad, the infections so rampant, the windows had to be rolled down and Sadie was taken straight to El Camino Vet Hospital. An off duty vet  was called in to deal with the enormous pockets of infection in this poor girl's mouth. Several teeth were pulled and the vet said he'd never seen it so bad. Poor Sadie had been suffering like this, a victim of neglect, for years. El Camino discounted their services, such was the appeal of Sadie (and we're sure, the persuasiveness of Charlotte) as it was not an easy operation.
Through it all Sadie stayed happy, grateful, and in true hound fashion, eager to sample any treat that came her way.  With her happy-go-lucky personality, stubby legs and enthusiastic tail, Sadie quickly become a favorite among volunteers. And yep, she's got that glorious hound howl. BARRROOOOOOOO! Sadie even traveled to Malibu to hang out with the stars at the Chiquita's Friends gala supporting Meade Canine Rescue.  She shone as bright as anyone that night.
Then Sadie hit the jackpot. Adopted by a family with another Basset/Beagle, together they are enjoying the family's ranch. That's a happy tail!
Thanks for supporting Meade Canine Rescue and making it possible for a sweetie like Sadie to live a healthy life with love and joy.