Meade Canine Rescue's mission has always been to help alleviate the pet overpopulation problem that results tragically in the euthanasia of millions of healthy sentient canines who deserve so much more.
Since the rescue in 2001 of our first amazing dog from a Jersey City dog pound, we began the task of saving the least adoptable dogs from high kill dog pounds where their fates hung in the balance and began to place them in great homes, one by one.  By advocating better education, providing medical care and spaying/neutering as many dogs as possible with the resources available we kept matching pound dogs with families and the dream of being able to help dogs and cats became a reality.  We tirelessly saved lives, going from pound to pound and taking in animals who would have been completely overlooked and destroyed.  The stories we can tell are often unsettling but many are heartwarming and quite a few are almost miraculous.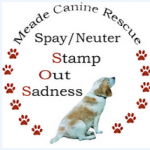 Once we realized the enormity of unwanted  pets, no more born became our mantra and our focus remains in our logo – stamp out sadness, spay and neuter and always adopt.
With proper food, shelter, medical care, exercise and love, MCR has rehabilitated thousands of dogs.  We have three locations in Connecticut for younger and more adoptable as well as senior dogs and in 2012 incorporated a 12-acre California ranch in Creston as a sanctuary almost entirely for seniors and special needs animals with no where to turn. Please see our video for an glimpse of how our seniors lives change at the ranch.
http://www.meadecaninerescue.net/about-us/
In 2015 we began work on a barn project to house younger adoptable dogs at the sanctuary and invite visitors for working ranch holidays in the beautiful hills of the Central Coast.
We welcome inquiries 365 days a year and invite people to visit by appointment.  Adopters and sponsors are welcome and donations greatly appreciated as MCR depends solely on donations for its operations. Visit us on Facebook Meade Canine Rescue and Meade Canine Rescue New England and view adoptable pets on Petfinder, adopt a pet and other adoption sites.
We greatly appreciate your support.
Po Box 252 Creston CA 93432
MEADE CANINE RESCUE IS A 501(c)(3) NON-PROFIT