I miss writing. That's maybe a good thing. I hope you miss reading my writing, because I feel like telling a story. And it's a dog story.
Last week I received a message from a friend who does dog rescue (yeah, yeah, that sentence could start a lot of my stories…and maybe it should). She wondered when I was going to be back up in Paso Robles. Seems there was a little guy who needed a ride. His name is Oscar and he has cancer. He was at a high-kill shelter and but for the Rescue Nation he would have been euthanized. Rescue Nation rallied and pulled him to safety. There was "room at the Inn" for him at the very special Meade Canine Rescue in Creston (just outside of Paso Robles), but they needed to get him from Riverside where he was being fostered, up to Creston, where he could live out whatever remains of his life in comfort and love. As life would have it, I was going exactly that route on the Friday after Thanksgiving. Of course, I said I'd take him. He had me at cancer. (Realistically, they had me at "dog").
When Charlotte Meade heard I'd be bringing little Oscar, she asked if I had room for a second. A beagle. You, she, and anyone who has met me (or read one of my books) knows I'm not saying no to a beagle. So, sure. I'd pick up 11 year old Max from the Rancho Cucamonga Animal Adoption Center on my way up as well. I've got two beagle sized crates. I'm driving up anyway. This will be fun. Chris agreed to take Daphne and Percival in his car, so I'd have just the two lucky rescue pups in mine. (3 beagles and an Oscar chubster in my car would have been hilarious, but not practical).
First stop was across town in Riverside at Oscar's foster home. His foster mom carried  chubby little Oscar out to me. Laurie, the friend who'd asked me to pick up the little hitch-hiker had described him as "chihuahua mix–probably with a meatloaf." And she was right. But Oscar is the cutest little guy. Chihuahua and pug-like face (with a cute little under bite) and a chihuahua and corgi body! When I put him in the crate in my car I told him, "Oscar Meyer Meatloaf, you have no idea how lucky you are about to be." He seemed to smile at me. But I think Oscar smiles a lot. Even at vaguely insulting nicknames.
Off we went to Rancho Cucamonga, me having seriously underestimated the traffic on Black Friday (in my defense, I was at work that morning and just plain forgot that other people were out shopping and fighting other shoppers, and whatever else is done on that dark, dark day), and Oscar having quickly decided a nap was in order (in his defense, his cancer is in his lungs, so rest is important). Since I was running late (story of my life) I didn't grab lunch before or after picking up Oscar. I figured I'd pick something up on the way. It's like I've never had a beagle before.
At the Rancho Cucamonga shelter I was met by a wonderful employee (the shelter was closed and she came in on her day off to spring Max) who led me back to a kennel where a very tall, very large, very handsome beagle waited for me. He was adorable, but there was no way he was fitting in the crate I  brought. Whoops. They had told me 40 pounds. Daphne was 44 pounds when we adopted her, but "normal" beagle height–she had fit in the crate I brought. But this dude was tall. All legs. He'd have to fold up like a cheap, plastic lounge chair to fit in that crate. But once I moved the crate to the cargo area, he happily hopped into my back seat. Then immediately into my front seat. Then into my purse (because every good beagle know there's almost always a snack in a woman's purse.) Nothing could hold back his exuberance and nose first dives into every nook and cranny. I loved him instantly. I always love the troublemakers!
Max eventually sat back in the backseat and sniffed at Oscar, seeming to approve. We headed out on our adventure. I stopped for gas and Max barked when I got out of the car, then stuck his nose out the window to check on me. Later I drove through Del Taco (bean burrito no cheese is about all I can get to-go that is vegan!) and Max once again tried to climb into my lap and then the Del Taco bag on the seat next to me. He helpfully counted my bites by barking at each one of them. And yeah…I ended up sharing some of my burrito and later a bit of my rice cup. Okay, fine, I gave him all of the rice. Oscar didn't seem to want any, but that's likely the medication he's on, because obviously our little Oscar Meyer Meatloaf dude does have an appetite.
Soon after Oscar was back asleep, snoring softly. Max liked sitting in the middle of the back seat (closer to the air vents was my guess) and every 5 minutes would try to sneak up through the opening to climb into the passenger's seat, hoping I wouldn't notice–which was like hoping the driver wouldn't notice a dog version of Pau Gasol just leapt into the seat next to her. I had to try hard not to laugh, while resting my arm on the console and blocking him. But Max upped his game. He began to lick my hand. Foul!! Cuteness foul of the highest order!! So I scratched his head. And the little stinker rested his head on my shoulder.  Game over! I was in love. And that's when he got his nickname–Maximilian Mashed Potato Head. Because his head on my shoulder was mashing my heart, and also his face was all mashed potato white. But mostly because when I was in college a friend called her boyfriend Skip-a-roni mashed potato head (I have no recollection why) and later another friend who also knew the first friend called her dog Butch-a-roni mashed potato head. So obviously that's an endearing nickname.
As much for me (I can't have a third dog….I can't have a third dog…I can't have a third dog….) as for them, I began to tell them how they'd hit the jackpot with where they're going. I told them how Meade had acres and acres of property for them to roam, and lots of doggy friends. Oscar with his cancer and his breathing problems would be well cared for and certainly wouldn't feel like he stood out, I told him. There are several dogs with tumors, and breathing issues, and heart issues…but they all get love and respect.
I told them how they could sleep all day, if that's what they wanted, and they could be in the house, on the couch, in a chair, or outside in a perfectly positioned bed soaking up rays of sunshin
e, if that's what they wanted.
They'd be able to cuddle with humans or other dogs, or rest on their own if they were feeling introspective (I think this appealed to Oscar but Maximilian Mashed Potato head, I felt certain, would want to meet and hang with everyone–canine and human).
I told them they would meet Billy the goat, and also a cat, and about 58 other dogs (the Inn is now full) including two
other new arrivals who'd landed safely earlier that day.
I told them how Charlotte had devoted her life to caring for these dogs. I did not tell them how most all of these dogs are dogs who would not have stood a chance if it weren't for Meade Canine Rescue (they didn't need to know that they too had been so close to death).  Maximilian Mashed Potato Head wanted to know about the food, of course. I assured him there was two squares a day, and a lot of treats. He asked about head scratches and shoulders to rest his head. I told him about the  band of merry volunteers and how they love and care for all the lucky residents.  He must have approved, because he finally curled up and slept. Oscar had fallen back asleep after I mentioned soaking up rays of sunshine.
We arrived in the dark of night, with millions of bright stars overhead. It was 42 degrees out, but naturally Max leapt from my car and began to sniff in earnest. So many acres to cover! So many dogs to meet! And Charlotte, there's Charlotte! She immediately exclaimed how much he looked like Riley–a loud, bossy beagle would spent his golden years at Meade and passed away earlier this year. I assured her that while Max had Riley's loud bark, he was a mellow loving guy at heart.  Oscar took a little warming up (literally and figuratively), and volunteer and man-about-rescue Tim took him off for a little private adjustment time. By the time I left, Max was on his hind legs stretched up to a table sniffing around for food, and Oscar was waddling down a path with a few other small dogs.
We don't know Oscar's full story, but we know he came from a shelter where he was at risk and now he's safe and will get the care he needs. We know from the paperwork that Max was adopted from the Rancho Cucamonga shelter four years ago and then returned after a week for unknown reasons (beagle amateurs, I'm guessing). Then he was adopted again and returned (after four years!) in October. He'd needed dental surgery (11 teeth removed) and he may have Cushing's disease, and there are a few lumps (like any good mashed potato dish, right?), but he's the most easy-going happy guy. And he'll be able to remain that way. Because these dogs have safely arrived at their happily ever after.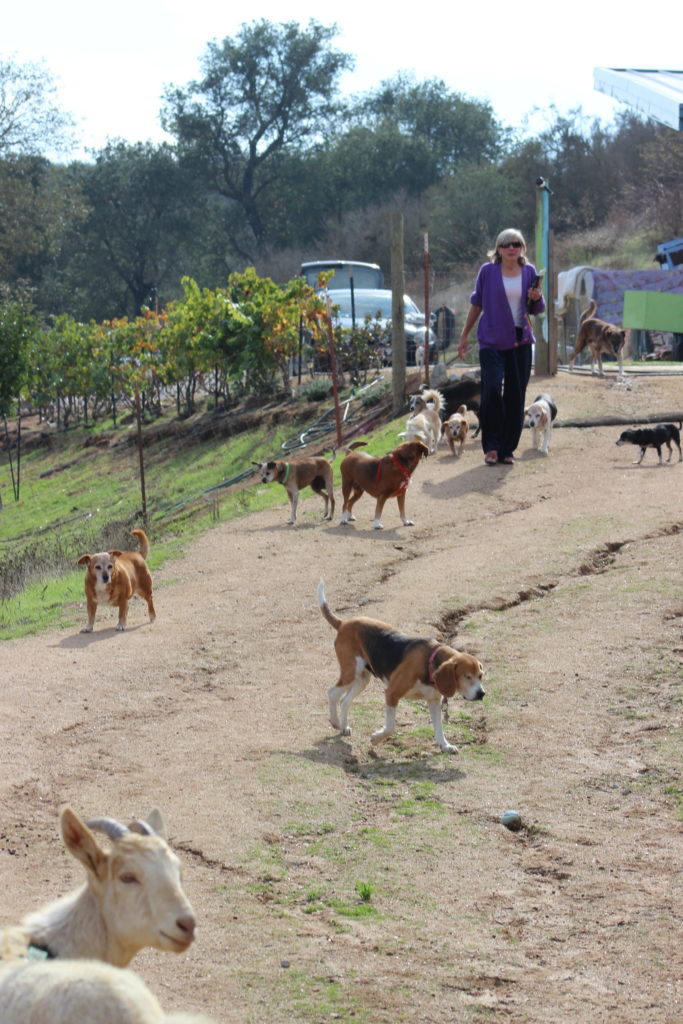 And as for me? I went home to Chris and Daphne and Percival (and a well deserved glass of wine) at our cute little townhome in Paso Robles. Daphne and Percival sniffed my hands and legs and looked at me suspiciously, but eventually they approved of my efforts on behalf of other dogs.  It took a rescue wagon train (thanks Bridget, and Laurie, and foster Lisa, and RC Shelter employee Amanda, and of course, always, Charlotte), but these two little (okay, big) angels–a meatloaf and a mashed potato head- were safe and warm and I was sure, sleeping soundly. And that beats shopping on any day.
P.S. If you want to see what doggie heaven on earth looks like…click here: Meade Canine Rescue and Sanctuary and if you want to consider donating some of that money you saved on all your black Friday deals, tell 'em Maximilian Mashed Potato Head and Oscar Meyer Meatloaf sent you.
And if you're happy to read this story, or just happy I'm writing again, well, comments are encouraging. 😉